Data Generation (CT, MRI, 3D Scan)
Prior to 3D printing, the ability to manufacture patient-specific parts directly from a scan was not cost-effective with conventional manufacturing techniques where parts had to be milled from a solid block of material such as stainless steel or titanium. This has changed with the emergence of Additive Manufacturing that makes 3D printing possible. These tailored parts are made possible through special software that converts the patient's own data derived from images a CT scan of their foot or ankle into three dimensional (3D) files. These files essentially encode each patient's specific anatomic or pathologic features, which is then converted to a 3D model which is then utilized to plan a surgery and fabricate customized implants or instrumentation with the use of advanced 3D medical printers.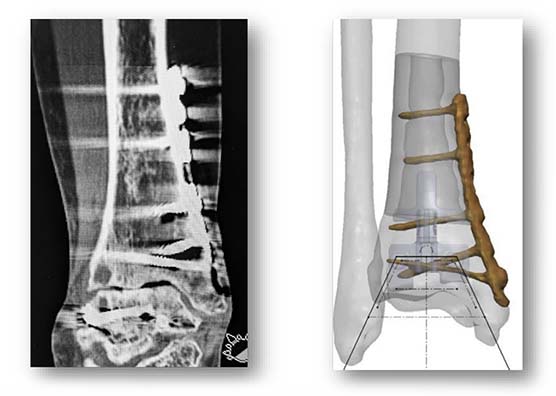 The Image on the left is the CT scan while the image on the right is the 3D rending of the same ankle
CT Scan
CT scans use multiple x-ray projections through a subject to computationally reconstruct cross-sectional images that can be complied into a 3D model.
CT is considered the imaging method of choice for bone imaging due to its ability to capture surface detail of bone and for the collection of data that is then used to produce medical models of hard tissue structures like bone. CT scans are widely used in emergency rooms because the scan takes fewer than 5 minutes.
Depending on the type of problem, sometimes it is even useful to get a CT scan image of both feet or ankle so that a deformity can be compared to the "normal" side, especially in the case where an entire bone segment needs to be 3D printed.