St. Petersburg Innovative Foot & Ankle Surgical Fellowship
Program Summary/Training Goals
The St. Petersburg Innovative Foot & Ankle Surgery Fellowship at Alexander Orthopaedic Associates was established to enhance the education of graduates from advanced podiatric surgical residencies who seek additional training in complex reconstructive foot and ankle surgery, gain an increased understanding of product design and intellectual property development, and strive for both personal and professional advancement.
This fellowship is designed to give back to the profession and create a bridge between resident training, professional employment, and leadership within our profession. The curriculum is fellow-first and fellow-motivated with a myriad of available learning opportunities through surgery, clinic, product development, research, and private practice management from within an orthopedic, podiatric or multi-specialty group setting.
Program Director: 
Adam D. Perler, DPM, FACFAS
Other Program Faculty:
Thomas Odmark, MD
Vladimir Alexander, MD
Daniel Penello, MD
Brendon Zelna, DPM
Heather Zelna, DPM
Robert Abady, DPM, FACFAS
Dennis Tenenboym, DPM
Mohit Bonsal, MD
Jason Levy, DPM, FACFAS
J. Russell Lowrey, DPM, FACFAS
Theodore Couluris, DPM, FACFAS
Ugonna Anyaugo, DDPM FACFAS
Kyle Johnson, DPM, FACFAS
Timothy Runyon, DPM, FACFAS
Gary Katz, DPM, FACFAS
Robin Katz, DPM, FACFAS
Rodney D Troxell, DPM
2019/2020 Foot & Ankle Surgical Fellow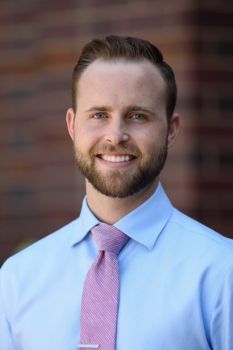 Anthony Rusher, DPM, AACFAS
Anthony is a native of Northwest Ohio. He attended The Ohio State University where he graduated Cum Laude with a Bachelors degree in chemistry. He completed his medical degree at Kent State University College of Podiatric Medicine in Cleveland, Ohio, graduating at the top of his class as President of the Pi Delta National Podiatry Honor Society.
Anthony then completed his surgical residency at Community Health Network in Indianapolis, Indiana. After completing his fellowship, Anthony hopes to return to the Buckeye state. He enjoys sports and regenerative medicine as well as trauma and reconstruction of the foot & ankle.
Fellowship Details
Alexander Orthopaedic Associates

12416 66th Street N., 
Suite A, 
Largo, FL 33773

Phone: (727) 547-4700

Fax: (727) 394-8661 

Email: This email address is being protected from spambots. You need JavaScript enabled to view it.; This email address is being protected from spambots. You need JavaScript enabled to view it. 

Websites: alexanderorthopaedics.com; www.adamperler.com
Number of Positions: One
Duration: One year
Program Start and End Dates: July 1 - June 30
Stipend: $60,000 (plus health benefits)
Position Locations: St. Petersburg, Largo, Trinity, and Clearwater, FL
Application Deadline: November 30
Program Application: ACFAS Standard Fellowship Application Form
Research Requirements
Two research activities which can include poster presentation at ACFAS or FPMA SAM seminar, peer reviewed article submission, or participation in active research study.
Foot and Ankle Surgical Exposure
Primary and revision foot & ankle reconstruction including total ankle replacement and the integration of 3d printing and additive manufacturing
Advanced techniques in both internal/external fixation
Complex deformity correction planning and execution
Peripheral nerve surgery
Evaluation of new and innovative surgical techniques and new product evaluation
Utilization of advanced orthobiologics and regenerative medicine surgical integration
Complex foot & ankle reconstruction and diabetic limb salvage including charcot reconstruction