Current Applications of Customize Patient Specific Surgery and 3D Printing at AOA
Surgical Learning Tools and Complex Surgical Planning
While much of the focus for 3D printing in the medical industry has been around implants and medical devices used by patients, one of the largest areas of application has concentrated on the ability to create anatomical replicas. Historically, clinical training, education, and device testing have relied on the use of animal models, human cadavers, and mannequins for hands-on experience in a clinical simulation.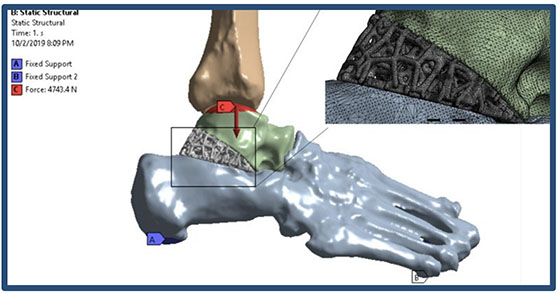 Actual surgical plan prepared by Additive Orthpaedics engineering team and Dr. Perler
These options have several deficiencies including limited supply, expense of handling and storage, the lack of pathology within the models, inconsistencies with human anatomy, and the inability to accurately represent tissue characteristics of living humans. The advantage of 3D printing is that actual pathology or deformity can be 3D printed. This combined with the detailed pre-operative planning process allows the surgeon to perform a trail run of the surgery before the actual operation which greatly reduces the potential for intraoperative errors.
At Alexander Orthopaedic Associates, we often use the planning phase of 3D technology derived from patient scan data to improve treatment decisions, enhance surgical planning, and in some cases, even practice selected surgical interventions in advance of the actual treatments. This is the AOA Customized Patient Specific Surgical approach.
These models/plans are used to model a patient's anatomy pre-operatively that is typically difficult to visualize and helps to eliminate possible "surprises" that can happen intraoperatively. Models also assist in accurately sizing medical devices and implants. At AOA, we often use the models or surgical plans to explain an upcoming surgery to patients and their families and to communicate the surgical steps to the surgical team to optimize and facilitate the surgery.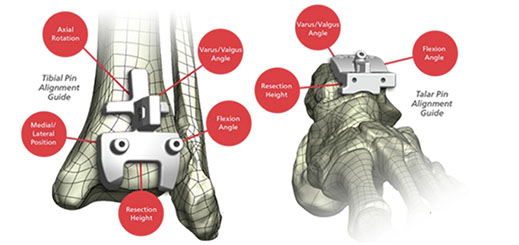 Example of Patient Specific Instrumentation (PSI) used for a Wright Medical Prophecy Total Ankle Implant
Surgical Guides and Instruments
Much like a carpenter who uses a drill jig to ensure a hole is placed in the exact right location, physicians also implement guides and tools to assist in surgery. Historically, surgical guides and tools were generic devices made of titanium or aluminum which could not be easily adapted to individual anatomic variations.
By implementing 3D Printing principles, Dr. Perler helped to co-found RedPoint Medical, a company that aims to assist physicians in the creation of patient specific guides that precisely contour a patient's unique anatomy, accurately locating drills, saws, or other instruments used during surgery.
Before and after xays of a bunion deformity that was corrected with a RedPoint Medical 3D printed patient specific cut guide
RedPoint Medical is currently focused on the correction of complex bunion deformities by producing a 3D printed patient specific and customized cut guides that enables surgeons to flawlessly execute a complex bunion reconstruction through the delivery of a detailed pre-operative plan, customized cut guides and tools that aid the on-the-table correction with the highest level of precision available on the market resulting in reduced complications, shorter operations, reduced exposure to anesthesia and x ray, and significantly improved postoperative results.
3D Printed Implants
Sample porosity of tibial bone segment replacement utilized in a complex reconstruction following a bone tumor removal
The ability to 3D print fine mesh or lattice structures on the surface of surgical implants can promote better bone integration and reduce rejection rates. Biocompatible materials such as titanium and cobalt-chrome alloys are now available for applications in orthopedics implantation.
The superior surface geometry produced by 3D printing has been shown to improve implant survival rate by a factor of 2 when compared to traditional grafting products.
The controlled porosity that mimics the patient's actual bone coupled with the high level of customization and ability to manufacture 3D customized implants from traditional medical materials has led to the expansion of 3D printing applications which is quickly becoming one of the fastest growing segments of the medical industry.
Prosthetics and Casts
3D printing is perhaps currently most utilized in the world of prosthetics. With over 200,000 amputations each year in the US alone, getting access to a highly functioning and well-made prosthetic is both time consuming and expensive by traditional methods. 3D printing is now being regularly implemented to speed up the time it takes to create a prosthetic and can produce complex geometries needed to help the prosthesis fit to the patient.
Mixed with nanotechnology, we are even starting to see electronic/mechanical limbs that not only help with ambulation or grasping, but that are starting to enable the patient to feel and control their limb by their own brain power. In addition to this, prosthetics can be printed with skin like substitutes that look and feel like the real thing all the way down to hair follicles, birthmarks and skin pores. 3D printing is also providing a much cheaper alternative.
Example of a custom 3D printed cast
3D printed casts are just now starting to become available and have a lot of advantages such as comfort, style and weight. Perhaps the biggest advantage is the fact that the leg or arm can get wet without compromising the cast. AOA is currently working on bringing this technology into our practice.
3D Printing and Customized Surgery Challenges
While the time it takes to 3D print a part is usually much more efficient than traditional manufacturing methods, it does not take into account the other vital steps of the design process including obtaining the CT scan of the patient, converting the data to 3D images and for a team of engineers, software experts and physicians get together and create a unique surgical approach using either customized instruments and/or implants.
In addition to the extra time and effort needed in planning stages, there is elevated costs involved preparing for these patient specific cases. Because of this, for more urgent cases like trauma surgery, the use of generic implants or medical devices are certainly viewed as a more desirable and timely solution. At this point, 3D printing applications are typically preserved for complex surgical reconstructive cases. Fortunately, Alexander Orthopaedics Associates and Dr. Adam Perler have extensive experience in the evolving science of 3D printing and in many way are leading the charge nationally as one of the six Centers of Excellence for 3D printing as designated by the American Orthopaedic Society of 3D Printing.