Zimmer Biomet Trabecular Metal™ Total Ankle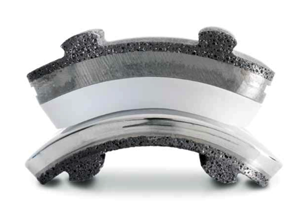 The Zimmer Biomet Trabecular Metal ™ Total Ankle is the first and only ankle implant available on the market that is implanted from a lateral approach through the fibula (outer ankle bone). It uniquely resurfaces the tibia and talus by using coupled and curved cuts that aim to preserve as much bone as possible while allowing for a maximal restoration of ankle function.
It features an advanced and industry-first Prolong® Highly Crosslinked Polyethylene bearing (spacer) which has been proven to provide longer life/wear when compared to more traditional bearing seen on the other total ankle alternatives.
It also features an advanced trabecular metal which can be found at the metal to bone interfaces and provides a significant advantage in regards bone integration into the device when compared to the sprayed on coatings found on the other total ankle systems found on the market.
Zimmer Biomet TM Total Ankle is a semi-constrained device is designed to provide joint mobility by restoring alignment, reducing pain and preserving the flexion/extension movement within the ankle joint.