Hello Hybrid Total Ankle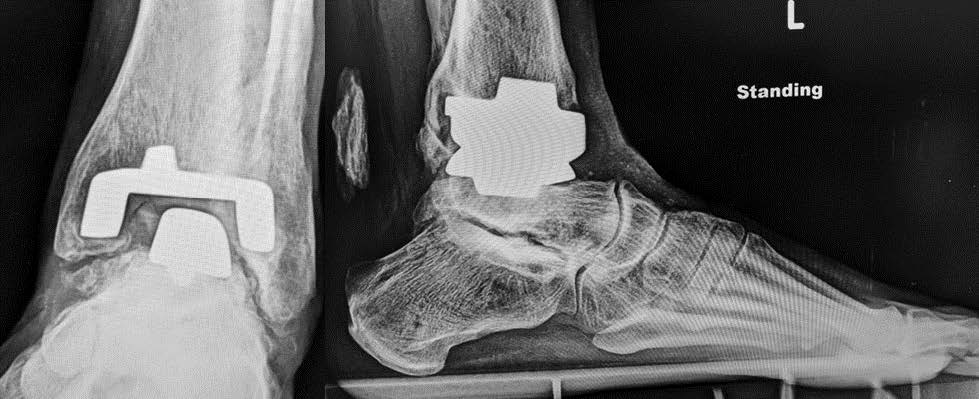 Generation 1 Depuy Agility Total Ankle
Though no one can go back and make a brand-new start, anyone can start from now and makde a brand-new ending. ~Carl Bard
Currently, no one can argue that the Depuy Agility Total Ankle System is a dinosaur in terms of total ankle technology. On the other hand, one must recognize that it has played a significant role in setting the stage and blazing the pathway for the design and introduction of so many new and greatly improved total ankle options that are available today.
At one point in the recent past, the Agility was the only option available by a select group of accomplished foot and ankle surgeons. Now, it is no longer available and finding replacement parts for it is extremely difficult.
A couple of years ago, a patient walked (limped) into my office with a dilemma. She had a very well-done Agility (1st generation) total ankle that was put in by the great Dr. Sig Hansen over 24 years ago. To date, she has had over 10 ankle surgeries including 2 revisions where exuberant bone formation was removed and the poly was exchanged, with the most recent one being about 10 years ago.
Here she was in my office for another "tune-up" surgery, but the only problem with this was that her ankle system was discontinued and was no longer supported. While I was able to track down a spare Agility poly after about 10 phone calls and a rather extensive treasure hunt at the DePuy/Synthes warehouse somewhere in Warsaw, Indiana, I saw a big dilemma that needed to be addressed. What will happen in 10 more years when this poly wears out and there are no replacements available that haven't expired while sitting on a shelf in a warehouse full of retired parts?